E-PUBBING, NOT FOR THE TIMID
E-PUBBING, NOT FOR THE TIMID
I experimented with e-pubbing a bunch of short stories. I happened to have seven short, short and flash fantasy stories hanging around with nothing to do and I put them to work.
Writing them was the easy part.
My group informed me that I was now the expert in case any of them wanted to e-pub. I have news: I have no idea how it's done or how to do it.
I went through Smashwords since it sits on my dashboard looking interesting. No other site clamored for my stories and really, it must be five years since that icon of a hand smashing closed a book has tried to get me to notice it.
So, I sent Smashwords my collection of short, shorts. They immediately answered back that yes, they wanted me. I was thrilled. I had passed their initial look-see but now the stories needed to get formatted.
I read the instructions on formatting and wanted to weep. I had no clue to what they were talking about. No problem, they said, here's a list of independent formatters who will fix it for you. It needed fixing? Why?
I chose a formatter at random from their list. He was very nice and formatted it the way they liked. I have no idea what he did. But one thing that gave me no end of joy was the fact that he hyperlinked my ToC (Table of Contents) to the correct pages. I had read the how to's on hyperlinking and wanted to beat my head against a wall. But, to be hyperlinked? Oh joy.
You need to have a profile, they said. Okay, I can write a profile. I am supposed to be a writer. I wrote a profile and successfully sent it to them. I was a genius. I went up a couple of notches in my own estimation.
Now you need a picture of yourself. I had a photo that was enough years old to be flattering. It was a distance shot. I found it on file and tried to crop it and save it to send. Well, I saved the outside border that I thought I'd cropped off. No idea where the center of the picture went. My son sent them a different pic.
Cover picture. Well, something indicative of one of the stories, right? I tried to get a stock photo from the internet of a cute little goldfish. One that looked intelligent. Goldfish have attention spans of 3 seconds. It's impossible for them not to have a 'duh' expression. I asked my husband to give me a hand. Paint me an intelligent looking goldfish, please. I was so reminded of the part in "The Little Prince" by Saint Exupery where the prince asks the pilot to draw him a sheep. And the pilot did, over and over. Well, we finally did get an intelligent, in that it's inquisitive looking, goldfish. But it's not enough just to paint it and photograph it and superimpose the lettering on it, there was something to do with pixels, for crying out loud. I wanted to forget the whole thing. Writers are not meant for this kind of work. My son fixed the pixels.
These different critical pieces of an e-pubbed book were sent to Smashwords over the course of a month. They never got impatient with me, oh no. They didn't need my book, they have published in e-reader format almost a half million books.
Did I need them? I didn't need the aggravation, but now that it's done I look back at it as a different form of child-birth, one that I wasn't quite ready for.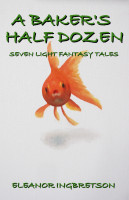 A Baker's Half Dozen. Seven Light Fantasy Tales by Eleanor Ingbretson
Will be available for purchase on November 7, 2017.
Price: $1.99 USD. Words: 11,500. Language: English. Categories: Fiction » Fantasy » Short stories
A BAKER'S HALF DOZEN is a new collection of flash and short, short fantasy tales for all ages. Seven stories, including three award winners, deal with life in the weird lane. Often humorous, sometimes poignant, but all odd. Something not quite right this way cometh.